Research consistently shows that group therapy is just as effective as individual therapy for most concerns, and some research even shows that group therapy combined with individual therapy is the most effective way to address concerns.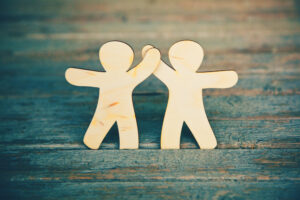 Group therapy may be helpful for those who:
Feel frustrated with others often
Want to feel that they are not alone
Feel not as capable as others often
Want to build connections with others
Feel different from others often
Want to feel more confident in relationships with others
Feel stuck in individual therapy
Want support from others going through similar struggles
Sometimes have trouble creating and maintaining relationships
At EmpathyWell, we provide group therapy options for adults, teens, and children who may benefit from this type of support. New clients interested in group counseling are required to participate in at least 1 individual session with the group counselor to help make sure our group services are the right fit.
Group Therapy for Children
Many parents seek social skills groups for kids to help their kids learn how to build connections, express their feelings in helpful ways, and use coping skills with others. At EmpathyWell, PLLC, we use evidence-based group therapy intervention to facilitate children's emotional control with others and provide them a safe, therapeutic space to practice using coping skills.
For children ages 4-10, we offer Child-Centered Group Play Therapy (CCGPT), an evidence-based intervention for children who are experiencing problems with peer relationships, making friends, and general social skills. CCGPT allows for children to experience social interactions with 2-3 group members which hopefully enable children to learn and practice new social and coping skills. CCGPT is appropriate for children who struggle with peer or sibling relationships, as well as emotional and behavioral problems. In CCGPT, a child's experience within the counseling relationship is designed to be the factor that is most healing and meaningful in creating lasting, positive change.
Group Therapy for Preteens and Teens
For adolescents ages 11-17, we offer group therapy using both activity therapy and talk therapy modalities depending on the developmental needs of the specific group members. Our groups for preteens and teens allow for adolescents to build connections as well as learn and practice new social and coping skills in a therapeutic environment.
Group Therapy for Adults
At EmpathyWell, we provide group counseling to adults for a variety of concerns using talk therapy and expressive arts therapy modalities founded upon each counselor's theoretical approach. We form groups dependent upon member availability and need. If you're interested in group therapy, please contact us to discuss availability and fit.
Ready to take the next step?
Contact us to begin the intake process and learn how EmpathyWell can determine the type and length of services best suited for you and your family.